ACWWA BOWLING NIGHT
The ACWWA YP Committee is holding a bowling night on Wednesday, March 21st from 6:00 to 9:00 PM at the Bayers Road Bowlarama located at 3459 Desmond Ave in Halifax, NS.  We have several lanes booked for the event. The event is not limited to YPs - Former YPs, friends, and colleagues of all ages (above 19) are welcome to attend! Bowling is not mandatory – you can come and network or catch up with friends.  
Tickets to the event are $10. Admission covers the cost of lane rental fees and shoes. If you bring a non-ACWWA member, both of your names will be entered into a draw to win a $25 gift card of your choice. There are a limited number of spaces available, so purchase your tickets early to ensure that you get a spot.     
Contact Lindsay Anderson ( This e-mail address is being protected from spambots. You need JavaScript enabled to view it ) if you have any questions or to find out more about the event.
Open to all ACWWA members, friends and family!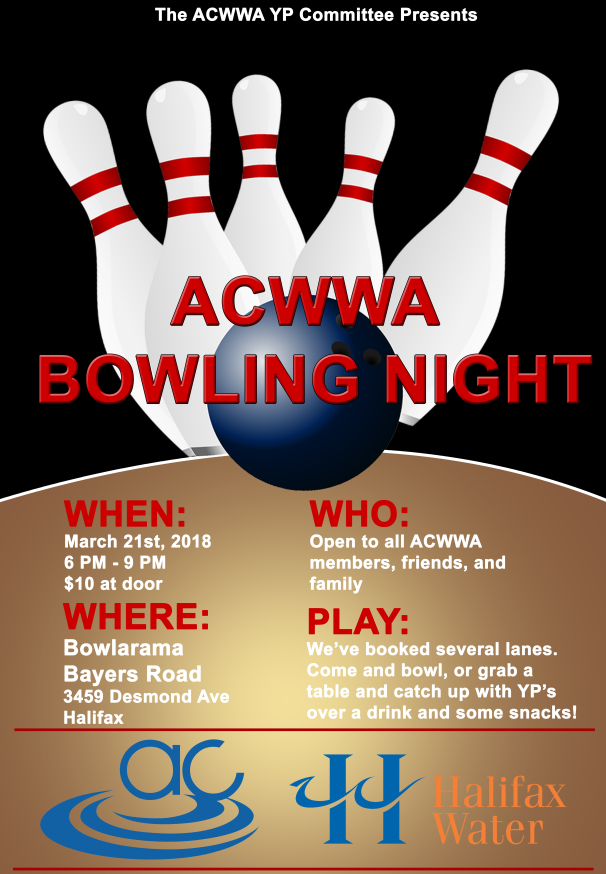 RSVP HERE
OR
Register Online HERE